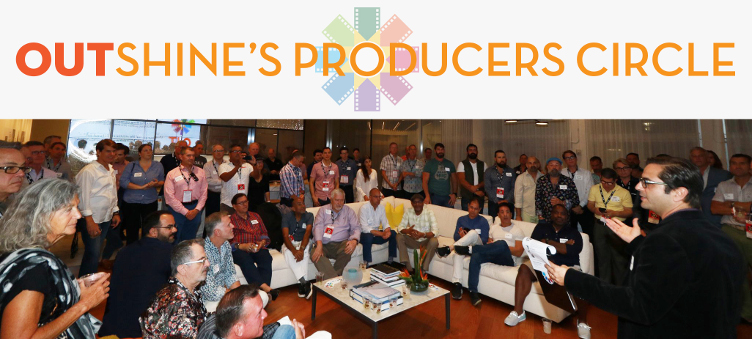 Studio Heads
Colgate Darden

Executive Producers
Larry Hyer


Producers
Brian Adler and Omar Suarez
Scott L. Bennett Charitable Fund at Our Fund Foundation
Dierck Casselman and Scott Van Hove
Douglas Candler
Larry Feldman, M.D.
Michael Goodman - Goodman Public Relations
Jeffrey Kozlow
Jennifer Kriz
Bert Mittler
Pam Newman
Douglas Pew
Cline Phillips and Josue Pilarte Conto
Ebony Rhodes
Jim Stepp & Peter Zimmer Fund at Our Fund
Ana Velosa and Yasmin LaRocca - Velocity Social Media
Roy Waldron and Evan Dillon
George Zuber Charitable Fund at Our Fund
Directors
DC Allen and Ken Flick - No Gay Hate Fund at Our Fund
Ward Auerbach
George Bailey & Dan Lowther
Brian Beasley and Oliver Von Gundlach
Randall Bodner and Carlos A. Garcia
Brian Burlingame & Marcones Macedo
David Campbell
Jerry Chasen & Mark Kirby
Marty Davis & Michael Acton-Coles
Kelvis Del Rio
Dennis Edwards and Mark Steinberg
Barry Ekle
Douglas Eney - Eneysoft, Inc.
Seth and Liebe Gadinsky
Mark Gilbert
Don Hayden and Brian Thompson
Benjamin Hein
Mark Jernigan
Ric Katz & Steve Rothaus
Krisztian Karsai and Danny Cabrera
James LaBrie
Anthony LoGrande
Dennis McWilliams and Victor "Tito" Ramos
Johnnie Mejia and Omar Morales
Richard Milstein and Eric Hankin
Dino Mosquera
Edward Pascoe
Don Perkins and William Niebles
Andre Perwin and Rod Gillis
Scott Rappoport
David Richardson
Glenn Rigoff
Lynare Robbins and Carmen Suero
Dennis Roy
Samuel Rubert
Edwin A. Scharlau and Victor M. Gimenez
Adam Sochet and Alejandro Zaldivar
Adele Spallone
David Starkey and Ari Sumargo
Walter Steunenberg
Phillip Teitelbaum and Adam Jacobowitz
Ronald Traub and Ramon Ortega
Chi Chi Truong
Jim Tyrrell and Roger Thomson
Christopher Vastine
Martin Watkins and David S. Mazza, MD
Linda Watson
Raymond Whitted, M.D. and Armando Roig, M.D.
Organization Directors
Miami-Dade Gay and Lesbian Chamber of Commerce
Take Shape Plastic Surgery, P.A.