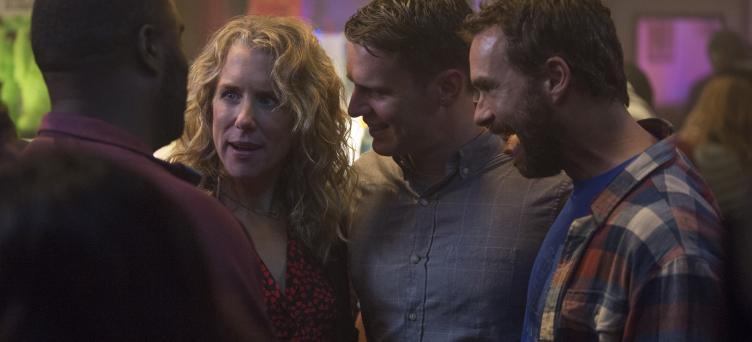 Film Details
Runtime: 85 minutes
Language: English
Director: Andrew Haigh
Country: USA, 2016
Category: Gay, Comedy, Romance, Drama
Genre: Comedy, Drama, Romance
For fans of HBO's breakthrough series Looking, news of the show's impending end stung like a breakup. Wooed for two seasons by the intimate exploits of Patrick Murray (Jonathan Groff), Agustín Lanuez (Frankie J. Alvarez), and Dom Basaluzzo (Murray Bartlett), three handsome but imperfect gay friends living in San Francisco, viewers fell irresistibly in love and were reluctant to say goodbye. It's fitting then that Looking, the movie, is about the sweet release of closure—and, like recovering from the end of a toe-curling romance, it will leave audiences, aficionados and newcomers alike, feeling renewed.

Looking begins with video game designer Patrick returning to San Francisco for the wedding of bestie Agustín to adorable bear Eddie (Daniel Franzese). Patrick left the Bay Area several months earlier—for a job, he says, but with a lovesick expression that suggests otherwise. Celebratory reunions with hunky restaurateur Dom and the ever-hilarious Doris (Lauren Weedman) ensue, as do multiple erotic minglings, old and new. Whether Patrick reconciles with bad-news-boss Kevin (Russell Tovey), renews his relationship with sexy charmer Richie (Raúl Castillo), or chooses the non-committed life, we will not say, letting you savor the potent particulars as they unfold.

Director Andrew Haigh (Weekend, 45 Years) and co-creator Michael Lannan evoke a genuine sense of people and place. From partying at The Stud, to bonding on Indian Rock, to getting down and dirty at home, Looking is rendered in the same radically real style that made the series a watershed in the presentation of ordinary gay lives. Our characters are still flawed, messy, and complex, but they've also matured, and like the transformed city in which they reside, their optimism and beauty of spirit are what ultimately prevail.